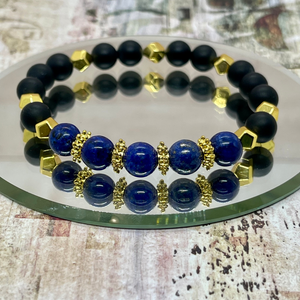 Lapis lazuli is one of the oldest recorded gemstones.  Representing truth and friendship... this stone has been prized among royals and clergy alike.
Combined with frosted black agate and gold accents... this is a classy piece to add to your collection.
Lapis lazuli and frosted agate bracelet with 8mm beads.
Genuine lapis lazuli stones.
Made with high quality stretch cord.
Several sizes available.